Frost by Ben DeBruin

A howling wind blew through the arctic plains. It whipped against me testing my will as it tried to push me away on the slick ice beneath my feet, but I persevered until the wind could not and inevitably changed direction. To my left I could see what was left of one of my colleagues, a man who before this expedition had no interest in leaving the comfort of his own home. I still wonder what the Captain said to convince him to come. The wondering would have to wait however, because the only thing concerning me now is survival. I walk to the body and remove its jacket, aside from the long slash in the back it is still intact, I put it on quickly, faint traces of disgust creep into the back of my mind saying it's wrong to steal from a dead man, but I remind myself that I still need warmth, and he does not. I have delayed long enough, the same whipping wind has started to blow against me again. I can't give up now, I have to keep going. Along my way I lose feeling in my legs, each step I merely hope that the pillars of flesh and bone fall beneath me, sometimes daggers of unnatural pain pierce my skin and I must stop to check if I have been bitten by anything other than frost. The shore is less than a mile away now I tell myself, I'll be back in the boat and heading home within 20 minutes. I know it isn't true, the expedition took us almost 30 miles inland before we found the shrine. I tell myself anyway because it is the only way I can keep going. Away from the indefinite ice and snow. Away from that thing. after an agonizing trek I finally make it to the shore, the snow had long since filled the tracks of our snowmobiles, what I wouldn't have given for another. without the tracks I could not be sure how far I was from the ship or in what direction it was. I stand now at a crossroads and know that a choice as simple as left or right is the choice between life and death. A deep growl permeates the air, it is nearby. I let the growling makes my decision for me, it emanates from my left so I flee right, first slowly then with all the speed I can muster. Each step feels as though my bones will shatter, as if they are made of the very ice that I step on, but I keep running with the shore to my left. One false move would plunge be into an icy death, one step back and I would be nothing more than beast bait, and one step right would be right back towards that god forsaken shrine. So I move forward until I no longer feel the ice on my skin, I move until the last trace of warmth has crawled out of me and been replaced with the same icy crystals which fill my lungs with every gasping breath of frost laden air, and I look on with despair. Ahead of me lies a trough in the ice, a cut through the frigid landscape shaped perfectly like the bow of a ship. I despair because it is empty, they left without me… They left without me.


Powered by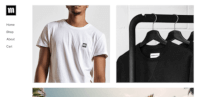 Create your own unique website with customizable templates.